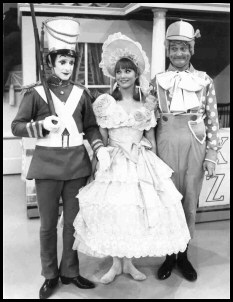 A Concert in Pantomime
1966 B&W,
60 min.


DVD
Region 0 (worldwide)
(NTSC format)
USD $14.99
AND
Meet Marcel Marceau
1965 B&W,
52 min.


DVD
Region 0 (worldwide)
(NTSC format)
USD $14.99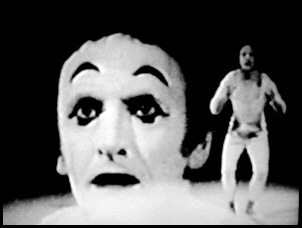 Red Skelton and Marcel Marceau, two masters of pantomime, in an evening of wordless performance. Ten scenes, including Marceau's famous character Bip, highlight the comedy and virtuosity of these two great talents.
Scenes include: "A Woman Driver" (RS), "Marcel Marceau Flies a Kite" (MM), "Looking at the New Baby" (RS), "Bip Goes to an Audition" (MM), "The Fisherman and the Little Boy" (RS), "The Prize Fighters" (RS), "Marcel Marceau as the Sculptor" (MM), "The Circus Performer" (MM), "The Astronauts" (RS), "The Miracle of the Dolls" (RS and MM together, along with four other featured players).
|
|
|
|
|
|
|
|
The most renowned of contemporary mime artists stars in a one-man show filmed for television. Ten different vignettes, including his famous "Bip" character, are featured. Voiceover narration by Marcel Marceau in English. Classic Marceau — essential for all true fans of the art.
Vignettes include: "The Tango Dancer", "The Side Show", "The Magic of Mime", "The Magician", "The Kite", "Bip: Matador", "Bip at a Society Party", "Youth, Maturity, Old Age, and Death", "Bip Dreams He is Don Juan", and "Tribute" (Marceau's tribute to silent film stars).